Sailing Fun For the Whole Family!
Visitors can enjoy the Crystal Coast's most coveted and hard-to-reach shorelines, or just embark on a breezy cruise of the open waters in search of dolphins and sunsets, with a trip that's guided by Lookout Cruises. This local tour company that calls the central town of Beaufort its home port offers a far-reaching range of adventures that will have coastal fans of all ages soaking up the sun and enjoying the best of the Southern Outer Banks.
All trips are held onboard a 45' ft. long catamaran with cushioned seating, lots of shade, large clean restrooms, and enough room for 42 passengers. This ship-shape vessel embarks on a wide range of cruises and adventures, which includes short sunset sails and moonlight sails that boast unbeatable views of the waterfront downtown region, as well as kid-approved dolphin watches where dorsal fins can be spotted just a few feet away from the boat.
For a true adventure, sign up for a Cape Lookout Cruise, which provides transport to the National Seashore, a catered lunch, and plenty of shelling and sightseeing opportunities. With so many explorations available, and so much water to cover, Lookout Cruises introduces newcomers to all the beauty and wild joys that this pristine parcel of North Carolina has to offer.
Whether it's two people, a family outing, tour group or business party, Lookout Cruises offers a memorable sail on the NC Coast complete with cool breezes, saltwater and breathtaking scenery.
Make your reservations today for one of these unforgettable Lookout Cruises!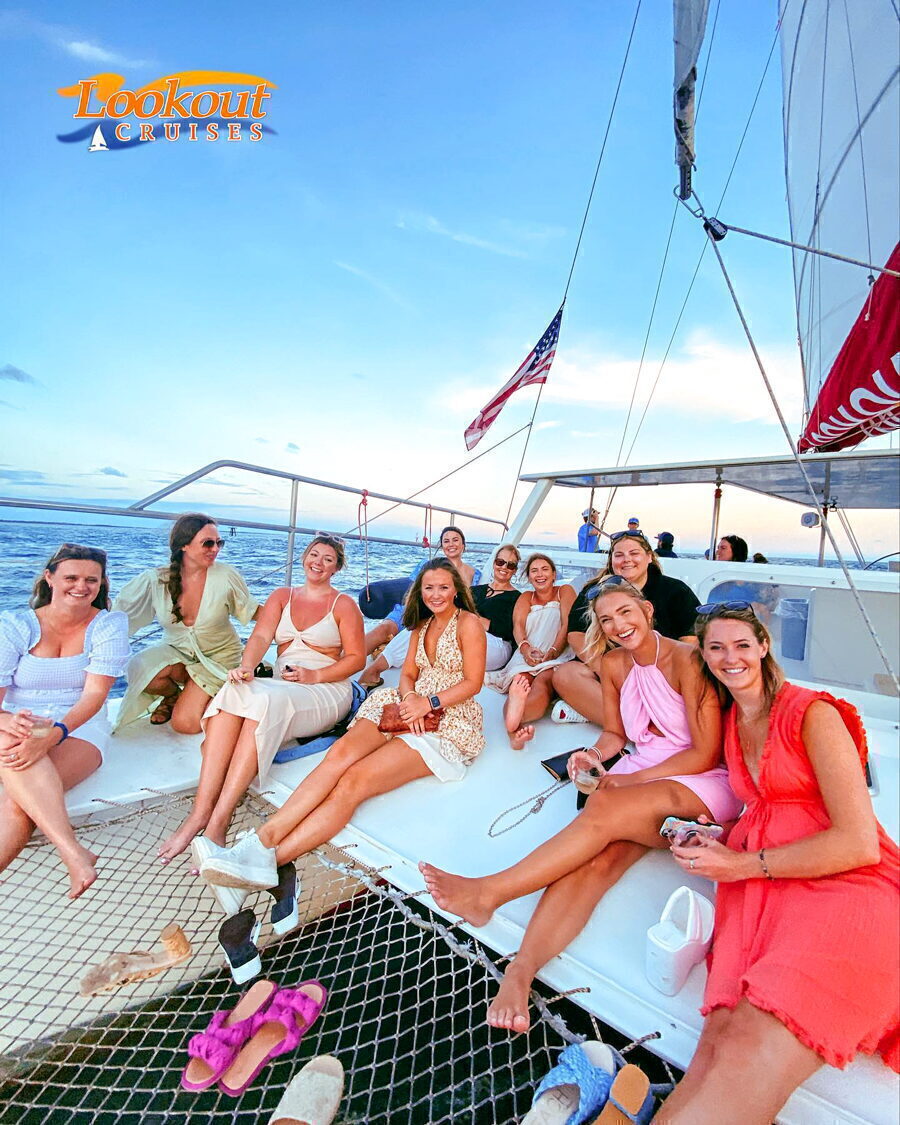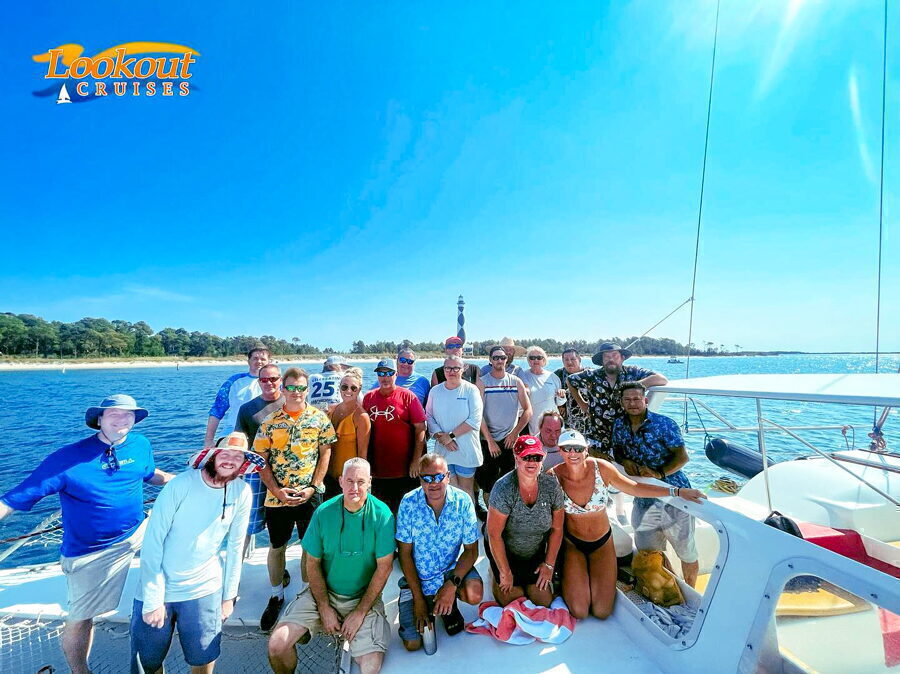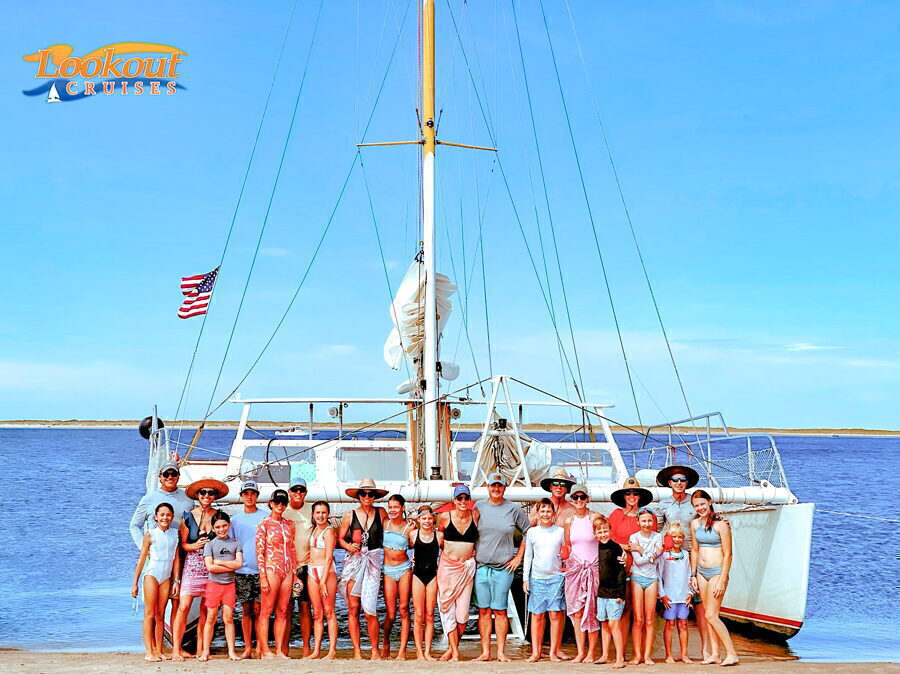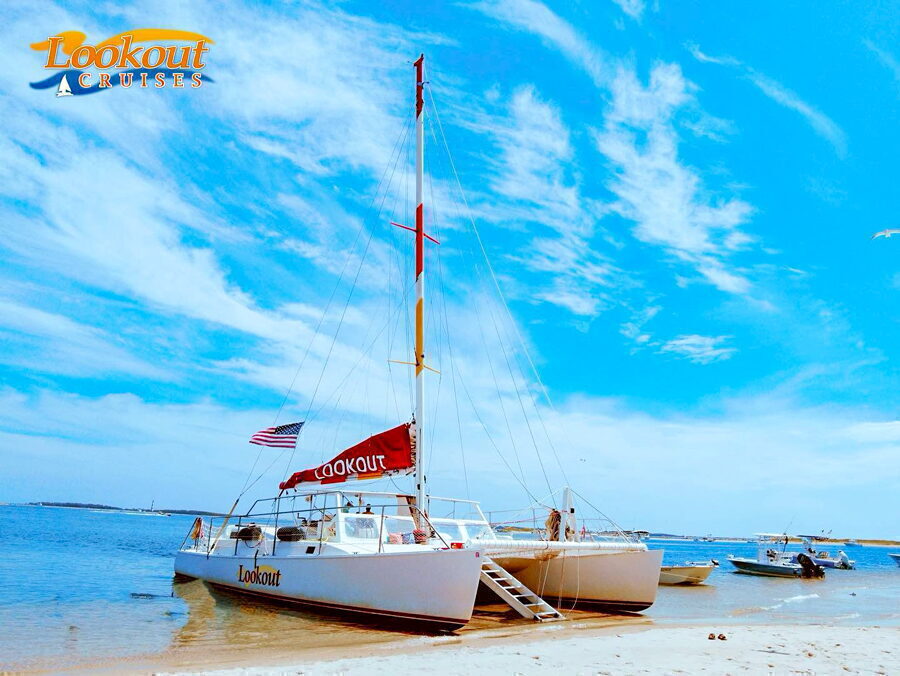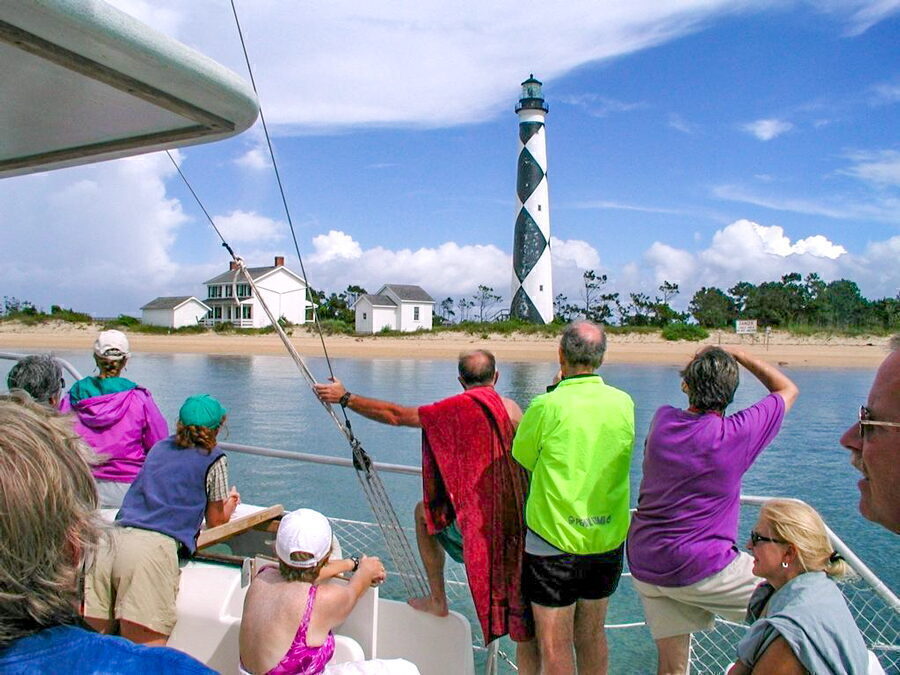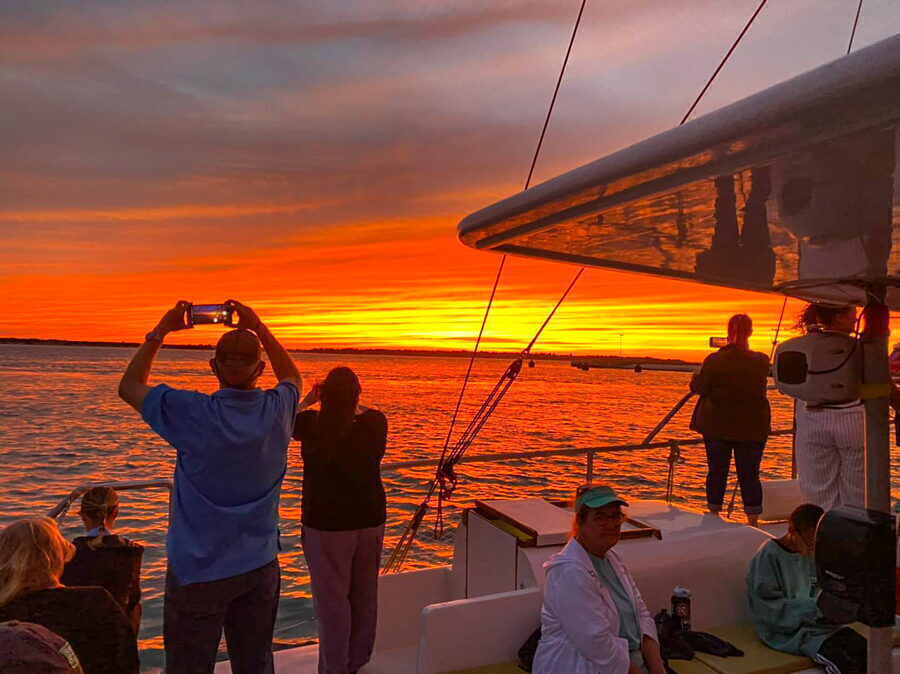 FEATURED PROFILE
Cruising Along the Coast
Lookout Cruises Offers Unforgettable Tours of the Crystal Coast
There's no better way to explore and experience North Carolina's Crystal Coast than on the water. For 28 years, Lookout Cruises has been making memories for families with the company's scenic tours of the coastal waterways.
"When I started 28 years ago there were very few tours that operated on the Crystal Coast. We were new. There was nothing like this here," says Steve Bishop, owner of Lookout Cruises.
Bishop moved to Beaufort after owning a manufacturing company in Rocky Mount, North Carolina. "I had been sailing here as a child—all my life—out of Beaufort with my dad, so I just felt like this would work here," he explains.
Bishop says he sold his manufacturing business, had a catamaran built in Yarmouth, Maine and started doing day trips in Beaufort. "At that time, we also operated in Marco Island, Florida," he recalls.
He says he's had other boats in other markets, but no experience compares to Lookout Cruises in Beaufort. "It took us a long time to build up the business. After four or five years, we became very popular."
Bishop credits Beaufort's increased popularity over the last several years to the accolades that have garnered national attention, including Beaufort being named one of the South's Best Small Towns in 2019 by Southern Living and earning a spot on USA Today's Readers' Choice list of Best Small Towns in the U.S. for adventure in 2020.
At the end of the day, Bishop's goal is to provide his passengers the same lifelong memories he made as a child when visiting the Crystal Coast. And that he's done, seeing repeat customers year after year. "We hear every day from people that we are the highlight of their vacation," Bishop shares.
Lookout Cruises' 45-foot-long catamaran, decked out with cushioned seating, plenty of shade for a hot summer's day and on-board restrooms, offers daily cruises and private tours.
Bishop explains that the A.M. Dolphin Watch tour, frequented most by families with young children, is a great opportunity to spot Dolphins leaping through the waters of Back Sound. The Sunset Sail, popular among adults and older teenagers, is a breathtaking evening showcasing stunning hues of red and yellow just as the sun dips into the ocean line at the end of the day.

The Moonlight Cruise is a unique opportunity to be out on the water after dark, but only during a full moon period. There's nothing more peaceful than being under the glow of the moon and twinkling stars.

Bishop's personal favorite cruise is the Cape Lookout Cruise. "So many people have not been out to Cape Lookout and it's unlike anything on the East Coast of the United States," he says.

This six-hour cruise gives passengers a chance to view Cape Lookout from the water then get off the boat and explore the area, including the Cape Lookout lighthouse, Keeper's Quarters museum and South Core Banks, following lunch.
No matter which cruise, passengers are in for a one-of-a-kind Crystal Coast experience.
— Arielle Patterson